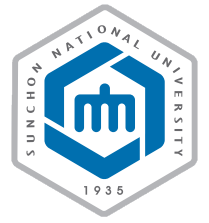 Sunchon is the largest city in Jeonnam Province, called the Korea's Ecological capital and is known as a cultural city with a history and tradition of Korea. It is right next to Gwangyang Port, which is the logistics hub of Northeast Asia in the 21st century, and Yeosu, which has a blue and crystal clear sea.


· Reasonable tuition fee(about $1,700 / other private universities' average $3,300)
· The only national university in the eastern part of Jeonnam province, with over 10,000 undergraduate students and 1,000 graduate students
· IEQAS certified university by the Ministry of Education of Korea(IEQAS : International Education Quality Assurance System)
· Abundant Scholarships(70% of students are awarded)
· Various supporting programs for International students
· TOPIK examination center and GKS degree university(Undergraduate, Graduate)
奨学金
Courses
TOPIK
Scholarship($)
etc
Language Course(Korean)
Level 0 or higher
200~500
Scholarship $450 / $270 / $180 will be given by the final grade of Korean Language Program
Bachelor of Degree
Level 0 or higher
1000~1500
If you are students from Sunchon National University's Korean Language Program,
You can get 80% scholarship of tuition fee.
For top graduate student, you can get 100% scholarships of tuition fee.
Bachelor of Degree
Level 0 or higher
400~1500
If you are enrolled students,
Depends on your GPA, You can get scholarships.

GPA 4.00 or higher : 100% of tuition fee
GPA 3.75 or higher : 80% of tuition fee
GPA 3.00 or higher : 40% of tuition fee
GPA 2.50 or higher : 20% of tuition fee
海外留学の経験
Isa Tas(Graduate student)

I was doing research about lichen and its bioactivity in my master degree in Turkey. In 2015, I attended in a workshop related with lichen and got some courses from one of the best Prof. in lichenology researches. He invited people who attended workshop to Korea for PhD research. Then, I applied and came to Sunchon National University after my master finished.
I had no idea about Korea and Universities. But after I arrived here, I realized that many facilities are available for science. Laboratories are in the world standards. Professors are quite qualified and professionals in their research areas. Now, I just focus on reseach with my labmates about the effect of natural compounds against cancer.
Moreover, the university city, Suncheon, is highly ecological and peaceful. It is easy to find several natural beauties for visit and recreation. So, to live an successful and peaceful academic life I strongly suggest my university!

Maftuna(Undergraduate student)

I am a foreign student who loves Korea as much as Korean.I met with managers from Sunchon National University at the Korea Studies Fair in Uzbekistan and I came to Korea in August 2016 with the help of managers.Even the moment I flew to Korea, I was not aware of the fact that I was coming to Korea, and I felt sorry for my hometown. But when I came to a new place after I stepped on Korean soil, I realized that my reality was changing from Uzbekistan to Korea.When I came to Korea, I was really impressed by the kindness of the flight attendants. From the airplane, I felt the warmth and consideration of the korean people.After coming to Korea, I was surprised several times a day at every little thing.Everything was new and unfamiliar. When I first came, I didn't speak korean well. Thanks to the teachers who are kindly teaching everything, I have been able to increase my korean language skills to the topic level 6. Thanks to the office staff of Sunchon National University Institute of International Affairs and Education who always cared and helped me whenever I had a hard time, I adjusted to life in Korea without worrying. And came to Sunchon National University I met my most precious friends and spent my happiest days.I will never forget my memories of spending the new year in Suncheon with my friends from Nepal, Malaysia, and Indonesia. Came to Suncheon I received this warmth and now I feel like Suncheon is my hometown.I want to build more unforgettable memories, in Sunchon National University in the future.

Sun Aiguo(Graduate student)

顺天大学建于1935年。是国家教育部承认的一所韩国公立综合大学,如今成长为代表韩国全罗南道的国立大学。本校在教育部大学组织改革评价中被评为"最优秀的大学"(A等级)。在光州及全南地区的几所重点大学中以就业率最高,新生注册率高而名列前茅。于2015年7月被评选为教育部"教育先导大学",以培养S-Life型人才的青春跳跃计划为目标,引导着大学教育的充实化。本校是一所建设福利充足,充满着幸福感的大学。
本校拥有六个单科学院,研究生院,以及特殊研究生院为学生提供学习选择。同时在校生通过海外学习·文化体验·现场实习·志愿活动来提高外语能力和就业能力,为留学生提供多样化的课程。与全世界21所国家,94所大学和教育合作机构建立了合作交流关系。中国: 23所 北京科技大学、中国农业大学,上海中医药大学,山东师范大学,河北师范大学,广西师范大学, 浙江理工大学,香港科技大学,中国科学院植物研究所等。中国台湾:5 所 国立台湾大学,国立台东大学,朝阳科技大学等。本校为培养人才,开设了在校生长期·中期·短期海外派遣项目,在校实习生项目,外国留学生韩语教育课程,外国留学生奖学金制度,校友(Buddy)活动与辅导项目,通过韩国语课程传播韩国教育·研究·文化等。
本校拥有奖学金制度,为外国留学生,从开学到入学,提供多样化的奖学金,校内奖学金和校外奖学金。成绩优秀的外国留学生,可以拿到学费奖学金,成绩优秀奖学金,同时也可以申请其他项目的奖学金。本校从宗教·兴趣·体育·学术·文艺等方面发展了50多个社团,定期举行社团博览会及庆典活动,给在校生提供更多的选择。同时为外国留学生提供宿舍,设施应有尽有。本校也提供福祉设施,教育环境,就业支援等。脚踏实地的教育和创意型人才培养,强化研究支援也是本校的目标。



Victor(Graduate student)

Living in Korea has changed my life for the better. It's the only place that has enabled me to grow and learn more about myself than I expected. It was a long journey from Tanzania to Korea with full of expectations. There were many things going through my mind, because I don't have a clear picture of how my life is going to be.
Looking back at Korea's economic growth history, it is a fact that Korea just like many other nations started from nothing but due to hard work, nature and cultural preservation not leaving out consistency of growth, Korea has risen to a new level both economically and technologically. I once had an appointment with my Korean friend but unfortunately I was late by 5 minutes, I didn't think it much trouble since I'm accustomed to African tradition which permits lateness of 5 to 10 minutes and in a general view you are considered to be timely compared to someone who comes later than that time. As a result, I was surprised to see my friend get angry with me, and warned me about time management. He told me Korean never settle for less, they try to keep their time as much as possible for building their future and Nation in general, and he added that time is the most valuable thing in Korea, being poor or rich it depends on the way you value your time. His advice has really helped me so much in many things in this country up till now I still benefit from his advice.
The reason for choosing Sunchon National University over other universities is that Sunchon National University offers an academic, social and cultural experience of the finest quality, it is located in the city where there is an impressive scenic environment no wonder it is called the ecological city of Korea, it creates a happy learning environment and finally it offers my desired major including language classes as it had been a dream of mine to learn a third language.
For sure within a short period of time that I have stayed here, I have experienced many things, though some of them brought about good experiences and some of them were quite ugly.
During my first year of college, it was a little bit difficult for me due to the new experience that I encountered, it was just like being born again in a new world, because as you know that it's not something easy all over suddenly to have new friends, new activities, new classes and even a new language. In that case, I had very hard time to manage between my studies and how to adopt to the new environment. The environment forced me to learn the language very quickly through interaction with people and being so curious about everything I saw. Through that, I got used to the environment sooner than I expected. And also, here people are down to earth, kind and loving so it's very easy to learn from them without any problem.

Paguirigan Jaycee Auguto(Graduate as GKS)

Studying epigenetics on lichens and lichens forming fungi is quite difficult but with the right people and the right support, you can definitely make everything possible. This is in line with my experiences in Sunchon National University where I work with very supportive advisers and laboratory peers. It is my pleasure to learn in the university with several Professors who took their PhD abroad, which only shows how globally competitive the university is. Aside from that, living in the university, and the city as a whole was not that difficult because of the friendly foreign students around. Add to that the buddy system program of the university for foreign students, which will help you learn more about the culture of South Korea while sharing your culture as well. Sunchon National University has been quite helpful in molding me into someone I want to be, a future scientist, thus I strongly believe that Sunchon National University is one the best University in South Korea if not in Asia and the world. Learning here is so much fun, which I hope that YOU will also get to experience soon!

Daniel (Korean Language Course)

저는 순천대학교에서 한국어를 공부하고 있는 프랑스 다니엘입니다.
저는 순천대학교 어학당에서 한국어를 공부한 지 8개월 되었는데 주변 한국 사람들은 제가 한국에 온 지 몇년은 됐다고 생각합니다. 왜 그럴까요?
저에 대한 이러한 '첫인상'을 만들 수 있었던 것은 모두 국제교류교육원에 계신 선생님들 덕분입니다.
선생님들은 항상 밝은 모습으로 저희들을 열정적으로 가르쳐 주셨습니다. 또한 코로나로 인하여 다른 학교에서는 거의 비대면 수업을 했지만 상황이 좋아졌을 때 순천대학교는 융통성 있게 대면 수업을 진행했기 때문에 한국어 실력을 높일 수 있었습니다. 이뿐만 아니라 저는 순천대학교의 문화 체험을 통해 한국의 아름다운 문화를 직접 체험하고 배울 수 있었고 다른 학생들과도 친해질 수 있었습니다. 순천대학교에서의 유학생활은 제가 생각했던 것보다 훨씬 만족스럽습니다. 모든 선생님과 행정실 선생님들은 저희의 편의를 위해 늘 노력하고 계십니다. 이번 기회를 통해서 감사의 마음을 전할 수 있게되어 기쁩니다.
職員の連絡先
| Admin Name | Tel. | E-mail |
| --- | --- | --- |
| 최혜선 | +82-61-750-3147 | 411024@scnu.ac.kr |